The secret of the wine's magic, complexity, and fascinating taste lies primarily in the deep involvement of the winemaker in growing the vines in the vineyard and the close personal supervision of the wine-production processes in the winery, but first and foremost, a good team that works together and in harmony with the wine-growing team.
We love to learn every day new insights, thus we have formed a team of professional consultants (winemakers, winemakers and winery managers) at the highest level to accumulate and harvest their vast knowledge and experience. Together, we are all having a fascinating journey that integrates wine growing, developing the unique characteristics of our terroir with the state of the art wine processes and technics to create the best aromas, flavours, color and body. 
Wine production from grapes that we grow ourselves is a huge advantage, when the winegrower and the winemaker united in the vision for wine production from A to Z. Quality becomes a guideline from the selection of varieties and seedlings, growing the grapes, setting the date of harvest and ending with the wine production processes in the winery.
The Bin-Nun staff includes:
Co-Founder, Winegrower, Danny Yaniv
Co-Founder, Winemaker, Eddy Gandler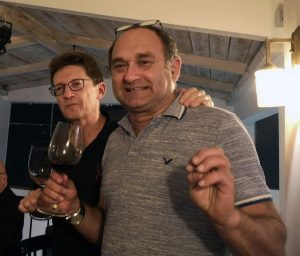 Winemaker, Itzak Lotan
Assistant Vintner and Kashrut Supervisor, Shraga Edelman

Local Kashrut, Rabbi Naftali Shlomo, Gezer Regional Council
International Kashrut, New Square Council Kashrot, NY (NSK)